Keep up-to-date with financial news and stay on top of the market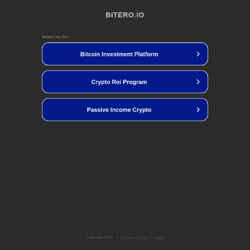 Start:
Sep 07, 2020

Scam date: Jan 01, 2021 - worked 116 days
Added: Sep 07, 2020
(116 days Monitored)
Bitero is a company that started as an idea, around which a team of enthusiastic visionaries was built. This team, consisting of various investing experts, experimented and developed novel frameworks for creating diversified investments with a high return and high security. The most successful frameworks were solidified and functioned (and still do) as the backbone on which this investment platform now known as Bitero was built. We have gathered the brightest minds from multiple fields to guarantee that all our decisions and actions are always backed by experience, analytics, research and calculations. By combining the knowledge and experience of financial trading with the possibilities offered by Blockchain technologies we manage to soar through the financial markets.
invest only what you can afford to lose
About Project
Plans

2% every workday and 1% weekend deposit back after 30 days with fee 10%
TECHNICAL DETAILS
SSL

Sectigo RSA Domain Validation Secure Server CA valid from Sep 01, 2020 to Oct 03, 2021 - Sectigo Limited

NS Servers

ns1.ddos-guard.net, ns2.ddos-guard.net, ns3.ddos-guard.net, ns4.ddos-guard.net, ns5.ddos-guard.net, ns6.ddos-guard.net
DOMAIN INFORMATION
Period

May 07, 2020 - May 07, 2023

Registered for 3 years