Keep up-to-date with financial news and stay on top of the market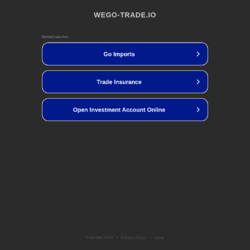 Start:
Jul 24, 2021

Scam date: Sep 20, 2021 - worked 58 days
Added: Sep 06, 2021
(14 days Monitored)
WEGOTRADE Wego Trade could be a specialized exchanging company that basically bargains in Forex and Crypto monetary forms exchanging and ventures. We have been serving our clients with commitment and judgment ever since our company's foundation. Considering the current situation of highly unstable markets and eccentric patterns within the domain of trading; having a dependable company to contribute with is what you wish. Wego Trade works with a exceedingly dependable shrewd calculation and AI devices which offer assistance us anticipate showcase patterns nearly precisely and gives us a one of a kind edge to form more intelligent, securer ventures. Usually why we offer standard returns in our speculation plans that our clients can appreciate, without having to go through the bother of considering the markets themselves. All you have got to do is contribute with us, and begin winning normal returns each day.
Disclaimer - All Online Opps Are Risky no matter what, It is upto one's own risk to Invest
About Project
Plans

2% - 3.6% daily lifetime (Accruals every hour)

Min Withdraw

$1 PM; $20 Crypto

Payments

Litecoin, Perfect Money
TECHNICAL DETAILS
SSL

Sectigo RSA Domain Validation Secure Server CA valid from Aug 01, 2021 to Aug 01, 2022 - Sectigo Limited

NS Servers

ns1.ddos-guard.net, ns2.ddos-guard.net, ns3.ddos-guard.net, ns4.ddos-guard.net, ns5.ddos-guard.net, ns6.ddos-guard.net
DOMAIN INFORMATION
Period

Jul 23, 2021 - Jul 23, 2022

Registered for 1 years
********@hyipweb.com
Good
Payment Received. Amount $1.8 Batch 419893617
Sep 18, 2021 16:58:31
Verified
********@hyipweb.com
Good
Payment Received. Amount $1.2 Batch 419232623
Sep 15, 2021 05:38:31
Verified
********@hyipweb.com
Good
Payment Received. Amount $1.8 Batch 418723406
Sep 12, 2021 17:13:32
Verified
********@hyipweb.com
Good
Payment Received. Amount $1.2 Batch 418013815
Sep 08, 2021 23:08:12
Verified
********@hyipweb.com
Good
Payment Received. Amount $30 Batch
Sep 06, 2021 19:17:02
Verified