Keep up-to-date with financial news and stay on top of the market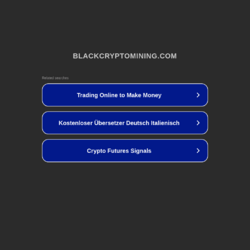 Start:
May 14, 2020

Scam date: Oct 05, 2021 - worked 509 days
Added: Sep 11, 2021
(24 days Monitored)
BLACKCRYPTOMINING Company is officially registered in the UK with the number 12021221 in the state register of companieshouse. Our company has long been focused on cryptocurrency mining, but right now in 2020 year we reached a new level and to expand the business, the company's board of directors decided to attract private investment. Thus, we intend to ensure the stable growth of our company and its further development and absorption of smaller mining pools. In fact, attracting private investment by BLACKCRYPTOMINING has practical goals. A significant part of our investors uses cryptocurrency and allowing them to earn dividends, we give an impetus to an additional increase in demand for cryptocurrency and, accordingly, its rate due to an increase in their assets, which in turn increases the income of mining companies. BLACKCRYPTOMINING is one such company and the growth of cryptocurrency rates is beneficial to us.
In such projects, if you want to invest, then only on the first investment plan.
About Project
Plans

101% - 144% after 1 day; 106% - 444% after 5 days; 114% - 999% after 11 days; 130% - 2222% after 22 days; 148% - 3333% after 33 days; 200% - 5555% after 55 days; 1% - 3% daily for 33 days;

Payments

Bitcoin, Dogecoin, Ethereum, Litecoin
TECHNICAL DETAILS
SSL

R3 valid from Sep 06, 2021 to Dec 05, 2021 - Let's Encrypt

NS Servers

ns1.ddos-guard.net, ns2.ddos-guard.net, ns3.ddos-guard.net, ns4.ddos-guard.net, ns5.ddos-guard.net, ns6.ddos-guard.net
********@hyipweb.com
Good
Payment Received. Amount $6 Batch 423712798
Oct 04, 2021 22:55:07
Verified
********@hyipweb.com
Good
Payment Received. Amount $4.5 Batch 423069743
Oct 01, 2021 15:49:49
Verified
********@hyipmonitors24.net
Good
The amount of 1.44 USD has been deposited to your account. Accounts: U23462038->U14206438. Memo: API Payment. Withdraw to hyipmonitors24.net from BLACKCRYPTOMINING.. Date: 19:04 27.09.21. Batch: 421847983
********@hyipweb.com
Good
Payment Received. Amount $12 Batch 421855146
Sep 28, 2021 10:03:38
Verified
********@hyipweb.com
Good
Payment Received. Amount $9 Batch 420271955
Sep 19, 2021 21:24:15
Verified
********@hyipweb.com
Good
Payment Received. Amount $5.85 Batch 418879577
Sep 13, 2021 05:22:02
Verified